There are three costs in learning to dive with us:
1. Dumbarton SAC:
 There is an annual membership for Dumbarton Sub-Aqua Club.  This covers running the club, pool fees, and regular maintenance of diving equipment.  Use of the club's diving equipment is FREE OF CHARGE, while you are training. 
The DSAC Annual fee is kept at £60 for 2018. 
 2. Scot SAC:
Dumbarton SAC is a branch of the Scottish Sub-Aqua Club (Scot SAC). All DSAC members must be Scot SAC members. 
The Scot SAC Joining Fee is £75 and subsequent Annual Fee is £55 for 2018. 
3. Equipment:
We suggest that trainees purchase their own mask and snorkel and consider buying a wetsuit and pool fins.   Owning your own mask is important as the fit of masks can be quite individual.  The club will provide all diving equipment to trainees FREE OF CHARGE during training.  Once training is complete, with the award of the Sport Diver qualification, we encourage you to buy the rest of the diving equipment, if you plan to continue diving in Scotland.  There is plenty time to think about buying equipment.  Instructors and club members will be able to advise you.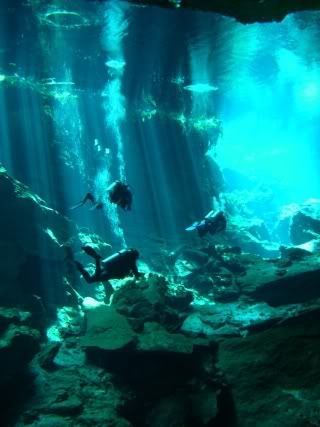 So, it would be possible for you to qualify as a Sport Diver, during the next year, for about £150 to £200.
This is a cavern dive in a Cenote - an underground river accessed by a sinkhole - in the Yucatan Peninsula, Mexico.
The water is so clear that divers in front of you seem to hang in mid air. (photo by Marcia, a cave diving instructor)